Jacket SAFETY STRETCH yellow/blue
Jacket FE.ENGEL SAFETY STRETCH elastic and functional, fluorescent fabric, modern an..
Skaityti plačiau
Konsultuokitės su profesionalu!
Prekės aprašymas
The FE.ENGEL SAFETY STRETCH jacket (1544-314-38165) is stretchy (2 Way FE Superstrech) and functional, in a fluorescent fabric, with a new, modern and contemporary design. The elastic fabric provides optimum comfort and ensures free, unrestricted movement. The jacket has a high neck and an extended back with a zip fastening. Inner cuffs with thumb loops. Two waist pockets, one chest pocket, all with zip fastening. Reflective strips across the shoulders, waist and sleeves. Tested for 50 wash cycles.
Specifikacija
Color
fluorescent yellow / dark blue
Material
56% polyester / 34% elastomultiester / 10% cotton
Standard
EN ISO 20471: 2013+A1:2016 class 2;Has a special Railway Standards Certificate: GO/RT 3279/ RIS3279-TOM;When jacket is worn with models 2544-314, 2546-314 or 3544-314 this combination is classified as EN ISO 2047I class 379-TOM
Deja, atsiliepimų nėra. Būk pirmas (-a) ir pasidalink savo įspūdžiais!
Rašyti atsiliepimą
Palikite prekės Jacket SAFETY STRETCH yellow/blue atsiliepimą.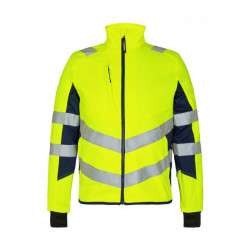 Jacket SAFETY STRETCH yellow/blue