Medical face mask NORDMED, 50 pcs
Item description
This disposable medical face mask protects against bacteria, dust, and viruses in the air that can cause respiratory or other infections. These masks help reduce the risk of viral spread during a pandemic.
The NORDMED mask is impervious to splashes of liquid from the outside and droplets from the nose and mouth when coughing or sneezing. If a person with no indication of infection comes into contact with an infected person, wearing a medical mask can prevent possible contagion.
For the daily use of medical staff and everyone concerned about health.
Type IIR, meets the requirements of EN 14683 standard for medical masks.
The mask consists of 3 layers that provide reliable protection against bacteria in the air.
Manufactured in Lithuania using only certified raw materials of EU origin.
We have implemented a quality control system to ensure impeccable product quality.

≥ 98% bacterial filtration efficiency (BFE)
Specification
Material
3-layer non-woven material made of 100% polypropylene (PP)
Quantity in the package
50 pcs.
Unfortunately, there are no reviews. Be the first to share your impressions!
Write a review
Leave the item Medical face mask NORDMED, 50 pcs review.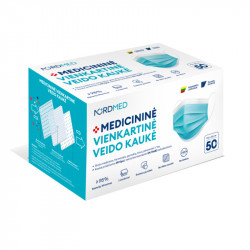 Medical face mask NORDMED, 50 pcs