Item description
The flashlight LED LENSER iH3 is light and easy to use, worn on the head. The flashlight strap has a special non-slip rubber lining that provides extra grip and stability when wearing a helmet. With the help of a switch, the amount of light can be easily adjusted in different situations. Has two light power options: high power 120 lm and low power 5 lm. The head of the flashlight can be tilted down 75 degrees to direct the light where it is needed. A patented combination of reflector and lens designed to create a light system that provides an even beam over long distances. Package: LED LENSER iH3 flashlight, 3 x AAA batteries and head strap.
Specification
Light power
5-120 liumenų
Lighting distance
20-100 m
Battery lifespan
6 val. (120 lm), 60 val. (5 lm)
Unfortunately, there are no reviews. Be the first to share your impressions!
Write a review
Leave the item Flashlight LED LENSER iH3 review.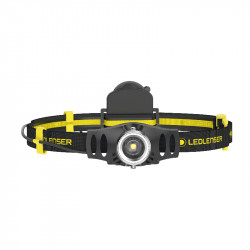 Flashlight LED LENSER iH3