Item description
FFP2 valveless respirator with ear straps. Reliable technology helps to efficiently remove heat, provides a cooler and more comfortable wearing experience, eliminates exhaled air and reduces the risk of glasses dew. The convex shape, double elastic strap and nose clip ensure a comfortable feel and fit for a wide range of face shapes. This product is not intended for use to protect against harmful gases, vapours or oily aerosols, does not generate oxygen and is not intended for use in low air pressure environments. Respirator with 4 protective layers. The foldable design makes it convenient to carry with you. The respirators are packed in 2 pieces in a hygienic package to protect against contamination. Not recommended for use if the respirator does not fit completely over the face. This product is disposable. Recommended duration of use is 4-8 hours.
Specification
Protection class
FFP2 NEW
Standard
CE EN149:2001+A1:2009
Quantity in the package
40 pcs.
Quantity in the box
960 pcs.
Unfortunately, there are no reviews. Be the first to share your impressions!
Write a review
Leave the item Respirator FFP2 NR white with ear straps review.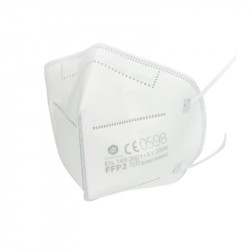 Respirator FFP2 NR white with ear straps