Respirator FFP2 NR white with ear straps
Konsultuokitės su profesionalu!
Prekės aprašymas
The advanced 3 panel design of the 3M™ Flat Fold Respirator 9300 Series means they are easier to breathe through and not prone to collapse. Being foldable they offer more convenience than traditional cup shaped respirators.
Features include head- band material that keeps a near constant tension, reducing strap pressure and helps to provide an effective face fit for a wide range of face sizes.
Lightweight construction promotes greater wearer comfort and contributes to increased wear time.
Adjustable aluminium nose-clip helps provide a custom fit and secure seal.
Intended for use against both mechani- cally generated particulates and ther- mally generated fumes, plumes & smokes.
Specifikacija
Kvėpavimo APSAUGOS KLASĖ filtras
FFP2 NR
Standard
CE EN149:2001+A1:2009
Quantity in the package
40 vnt.
Quantity in the box
960 vnt.
Deja, atsiliepimų nėra. Būk pirmas (-a) ir pasidalink savo įspūdžiais!
Rašyti atsiliepimą
Palikite prekės Respirator FFP2 NR white with ear straps atsiliepimą.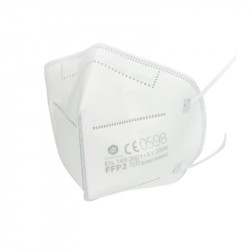 Respirator FFP2 NR white with ear straps