Item description
CAPITAL SAFETY DBI ISLAND Nano-Lok retractable fall arrestor (automatic fall arrest block) 3101261. Compact and lightweight automatic fall arrester with retractable rope 1.8 m long, 1.5 mm thick and 20 mm wide. Scaffolding hook length 1,91 m, weight 1,28 kg. Replaces the ABS rope, but is significantly safer, providing a lower safe height compared to the ABS rope. Replaces the two-branch ABS rope - two Nano-Lok block can be connected to the collars using a special two-way interface. Attached to the back anchorage of the bracelets by means of a special interface without occupying the back D-ring, which can be used for rescue in case of a fall. Unlike other fall arresters, suitable for use with a fall factor of 2 (anchorage point at the user's foot level). The retractable mechanism continuously maintains the tension of the rope, so that the height of a possible free fall is always minimal (~55 cm). Maximum stopping distance 0,6 m. Supplied with scaffolding hook with standard 57 mm mouth.
Specification
Weight
be kablio sveria tik 725 g, su pastolių kabliu – 1300 g
Unfortunately, there are no reviews. Be the first to share your impressions!
Write a review
Leave the item Automatic fall arrest block 3101261 review.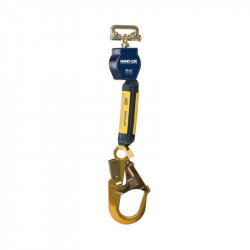 Automatic fall arrest block 3101261