Rubber boots EAGLEGRIP S5
Item description
The EAGLEGRIP S5 rubber boots are made of polyurethane, suitable for wearing in an environment where is wet, cold and you need to wear rubber boots for long time.
This modeli s also suitable for the food industry, with a special design that makes it easy to wash and disinfect shoes, which is very important when working in the industry.
Extra cantilever for more comfortable wear.
These rubber boots protect your foot even in cold and humid working conditions up to -30 C
Polyurethane rubber shoes are lighter than PVC rubber shoes, more resistant to petroleum products, lubricants, solvents and acids.
Does not contain metal, antistatic.
Specification
Protection class
S5 CI SRC
Upper
Polyurethane (PU), elastic, resistant to aggressive chemicals, oils, solvents
Sole
Polyrethane (PU), abrasion resistant, slip resistant (SRC), resistant to aggressive chemicals, oils, solvents, absorbing energy in the heel area
Standard
EN ISO 20344:2011, EN ISO 20345:2011
Unfortunately, there are no reviews. Be the first to share your impressions!
Write a review
Leave the item Rubber boots EAGLEGRIP S5 review.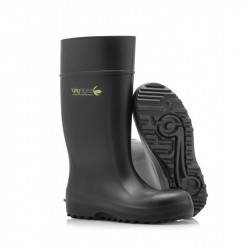 Rubber boots EAGLEGRIP S5