Item description
The FLEXIGO sweatshirt is made of a special Double Fleece fabric that retains heat well, and its processing does not allow it to sag and fade. The composition of the fabric and the design of the product are designed in such a way as not to restrict freedom of movement. Sweatshirt with a high collar, fastens with a high-quality zipper. Additional zipper protection at the chin. Velcro adjustable cuffs. High quality 50mm reflective tape runs across the shoulders, waist and bottom. Two parallel 50mm reflective strips run across the bottom of the sleeve. In the front of the sweatshirt, in the waist area, there are two large pockets with zippers, in the chest area - two pockets with Velcro closure, D-shaped ring.
Specification
Color
fluorescent yellow / dark blue
Material
100 % poliesteris (flisas)
Standard
EN ISO 20471:III
Unfortunately, there are no reviews. Be the first to share your impressions!
Write a review
Leave the item Sweatshirt FLEXIGO yellow/blue review.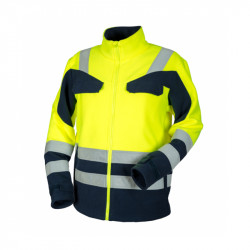 Sweatshirt FLEXIGO yellow/blue