T-shirt LIGHTGO PRINT long sleeves
Konsultuokitės su profesionalu!
Prekės aprašymas
High visibility clothing, fluorescent polyester on the outer side.
Cotton on the inner side.
Certified retroreflective bands 3M.
Straight cut with side seams.
1:1 rib knit neckline hem.
Fixing shoulder seams.
Certification according to the standards EN ISO 20 471 (class 2) and EN ISO 13 688.
Deja, atsiliepimų nėra. Būk pirmas (-a) ir pasidalink savo įspūdžiais!
Rašyti atsiliepimą
Palikite prekės T-shirt LIGHTGO PRINT long sleeves atsiliepimą.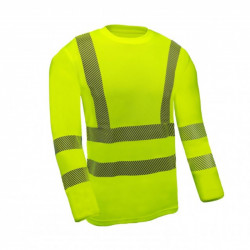 T-shirt LIGHTGO PRINT long sleeves