Item description
The PS53 helmet is specially designed for work at height. Lightweight, comfortable, sturdy, without spout. ABS coating, 6-point textile fastening, adjustable by means of a wheel. Non-ventilated helmet cover, for safe electrical work. Sweat-absorbing strip and 4-point soft rubber chin guard (Y model). Electrical insulation up to 1000Vac or 1500Vdc (EN 50365). Shelf life up to 7 years from the date of manufacture (if undamaged). Suitable with PW47 and PS47 headsets. Helmet size 52-63 cm.
Specification
Sweat absorbing tape
nailoninė
Insert
textile straps with 6 attachment points
Electrical isolation
440 V
Operating temperature
-30 / +50 °C
Standard
CE EN 397 (-30°C/+50°C), EN 50365 Class:0, ANSI/ISEA Z89.1 TYPE I (Class E)
Unfortunately, there are no reviews. Be the first to share your impressions!
Write a review
Leave the item Helmet for work at height PS53 review.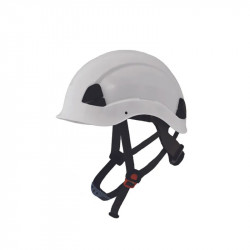 Helmet for work at height PS53