Item description
Low shoes RUN LOW S3 (701.175303 C4906) made of high quality Nubuck leather, waterproof but very good moisture wicking. With anti-static properties. Outsole made of two layers of polyurethane, resistant to slipping and abrasion, as well as to grease and petroleum products, absorbing energy in the heel area. D-Light technology is a new generation polyurethane compound, 20% lighter than traditional polyurethane, guaranteeing maximum lightness without compromising comfort or softness. The heel of the heel is additionally protected by a layer of cast TPU, while Ergonomic Support technology gives the heel stability and comfort. Inside, the 3D mesh quality lining ensures excellent air circulation. The toes are protected by a well-insulated steel toe cap that withstands 200J of impact. K-Sole outsole insert is lightweight, flexible and puncture resistant. The tongue is reinforced with practical and abrasion-resistant Cordura® fabric. Wide range of sizes for men and women.
Specification
Color
grey / blue / yellow
Protection class
S3 SRC ESD
Upper
Natural rough, impregnated leather
Sole
Two-layer polyurethane (PU/ PU), non-slip (SRC), patterned, oil resistant
Standard
CE EN ISO 20345:2011
Unfortunately, there are no reviews. Be the first to share your impressions!
Write a review
Leave the item Low shoes RUN LOW S3 grey/blue review.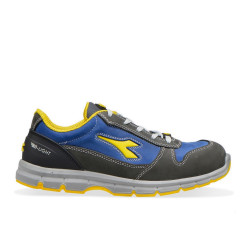 Low shoes RUN LOW S3 grey/blue