Item description
Modern design, functional trousers for work FE.ENGEL X-TREME (2366-317-79) made of elastic 4-way Stretch fabric. Narrow cut, ergonomic design, very comfortable and durable, does not restrict movement. Absorbs sweat well and dries quickly. The bottom of the claws is reinforced with a fabric resistant to friction and wear, so they will not wear out or become depressed. The knee area is reinforced with extremely durable Kevlar fabric. Pockets for insert kneepads, with two kneepad adjustment options. The pleats are specially left, allowing the trousers to be extended up to 6 cm. The trousers have many functional pockets - on the front, sides and back. Two criss-cross pockets on the front, two on the back, one zippered pocket each on the left and right cuffs, and a loop for attaching an ID card. An additional pocket for a mobile phone on the left claw, a pocket for tools on the right claw. Special attachment presses for quick and easy attachment of additional tool pockets (9360).
Specification
Material
73% polyamide / 17% cotton / 10% elastane
Available sizes
42-74, 22-36 (short)
Unfortunately, there are no reviews. Be the first to share your impressions!
Write a review
Leave the item Trousers X-TREME STRETCH grey/black review.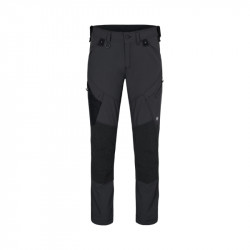 Trousers X-TREME STRETCH grey/black