Undershirt DEVOLD SPECIAL dark blue
Konsultuokitės su profesionalu!
Prekės aprašymas
Underwear t-shirt DEVOLD SPECIAL is a year-round favourite that is perfect for work as well as for all outdoor activities.
Devold production is made of soft and light garments knitted in 100 % fine Merino wool.
An elastic insulating rib knit, lightweight and soft, has been incorporated to absorb moisture and keep you dry during activity.
The new models have strategically placed flat knitted panels, providing extra comfort and freedom of movement.
Merino wool has a cooling effect when it is hot and feels warm against the skin when the temperature drops. Wool is naturally breathable, regulates body temperature according to activity and is also soft and flexible – which is a must for physical activity. In addition, wool is naturally resistant to odours, which makes it a favourite among those on the go.
Specifikacija
Material
85% wool / 15% polyamide, 20.5 microns
Deja, atsiliepimų nėra. Būk pirmas (-a) ir pasidalink savo įspūdžiais!
Rašyti atsiliepimą
Palikite prekės Undershirt DEVOLD SPECIAL dark blue atsiliepimą.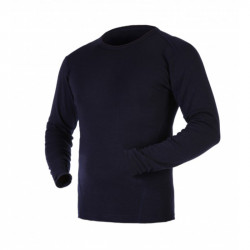 Undershirt DEVOLD SPECIAL dark blue