Item description
The fabric of the bib overall and other REWELLY LIGHT products is Canvas, which is a particularly strong, abrasion- and tear-resistant fabric. This weave of the fabric extends the wearing time of the product and also has very good air permeability. Polyester strengthens the fabric, prevents it from shrinking and fading during washing. The durability of the product is determined by the lateral and internal joining points of the fabric, which are three-seam. The linings and parts of the REWELLY LIGHT semi-overall, which receive the maximum load, are reinforced with a special Oxford 600D fabric. The braces of the semi-overall are a combination of fabric and rubber. Pockets for insertable knee pads. In the chest area there is a large pocket with a flap fixed with two Velcro fasteners, on this pocket there are two additional pockets - a mobile phone pocket with a flap fixed with Velcro fastener and an inside pocket also fixed with Velcro fastener. Two roomy side pockets, on the right side pocket there is an additional pocket with a Velcro closure, and on it a pocket for a mobile phone, two on the back, there is a tool pocket on the lower right side.
Specification
Material
65% poliesteris / 35% medvilnė
Unfortunately, there are no reviews. Be the first to share your impressions!
Write a review
Leave the item Bib overall REWELLY LIGHT review.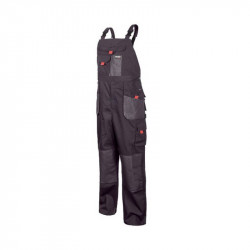 Bib overall REWELLY LIGHT