Item description
The DIRIN 230 A2B2E2K2 P3 R D filter is supplied with the C701 series full face mask. Used to protect against organic gases and vapours with a boiling point >65°C, inorganic gases and vapours, sulphur dioxide, ammonia, particles of poisonous and highly toxic substances. Convenient and easy fixation to the mask, EN 148-1 threaded filter attachment. Filter body plastic, inner filling activated carbon, polypropylene fibre. Sealed connection between particle filter and housing. Both filter openings are protected by water vapour-tight covers. Filter weight 292 g.
Specification
Type
dujų ir garų filtras
Protection
against organic and inorganic vapours and acid gases, ammonia and its compounds
Standard
CE EN14387:2004+A1:2008
Quantity in the package
1 pcs.
Unfortunately, there are no reviews. Be the first to share your impressions!
Write a review
Leave the item Filter DIRIN 230 A2B2E2K2 P3 R D review.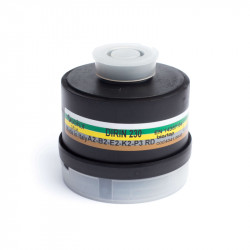 Filter DIRIN 230 A2B2E2K2 P3 R D