Item description
Patches PLUM 5516 blood-stopping, intended for supplementing the holder. This is a refill pack with 45 pcs. blood-stopping patches. Alginate fibers, located between the non-woven fibers of the cover layer, create an artificial clot (gel) in the cover layer, which stops bleeding within 1-2 minutes and maintains optimal moisture. Hemostatic patches, alginate fibers, better protection, help healing. The patches are very comfortable, do not irritate the skin, and are sterile. In order to stick the patch, the help of others is not necessary, because the patch is glued directly from the package, so quick first aid in case of injury is ensured.
Specification
Quantity in the package
45 vnt.
Quantity in the box
6 pakuotės
Unfortunately, there are no reviews. Be the first to share your impressions!
Write a review
Leave the item Blood-stopping patches PLUM 5516 (45 pcs.) review.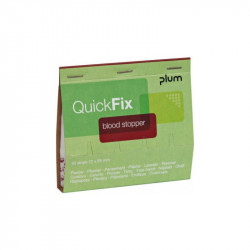 Blood-stopping patches PLUM 5516 (45 pcs.)