Item description
The patches holder PLUM 5500 QuickFix is compact and can be installed in any convenient place where there is the greatest need. Holds 2 replaceable cartridges with 45 patches. Depending on the need, it can be filled with different types of patches. The patch holder is easy to maintain. Screws, dowels and double-sided tape for wall mounting are included. Dimensions 23x13.5x3.2 cm.
Specification
Quantity in the package
1 vnt.
Quantity in the box
10 vnt.
Unfortunately, there are no reviews. Be the first to share your impressions!
Write a review
Leave the item Patches holder PLUM 5500 QuickFix review.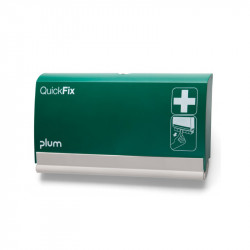 Patches holder PLUM 5500 QuickFix