Item description
3M™ Peltor™ X Series headphones X3A-RD set a new standard in design, comfort and protection. Innovative noise-cancelling technologies combine comfort with durability, versatile protection and modern styling - making it the ultimate 3M™ Peltor™ headset. They feature narrow-profile earcups and good noise cancellation - SNR = 33 dB. The ear cushions are soft and wide, helping to reduce ear pressure and improve comfort. Simple colour coding: red indicates level 3 products. Extremely lightweight (weight 245 g), so the wearer does not feel fatigue when wearing the headset throughout the working day. Integrated design - more robustness! Electrically insulated, highly adjustable double headband for a good fit and balance. Compatible with 3M™ safety glasses and respirators.
Specification
Recommended to use
esant 95 dB – 110 dB aplinkos triukšmo lygiui
Quantity in the box
10 pcs.
Unfortunately, there are no reviews. Be the first to share your impressions!
Write a review
Leave the item Headphones 3M X3A-RD with headband review.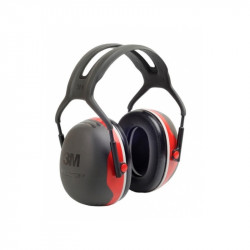 Headphones 3M X3A-RD with headband