Item description
The 3M™ Peltor™ Optime™ I headband headset (H510A) is very lightweight, yet provides versatile and comfortable protection. The narrow profile, but sufficiently deep earcups improve compatibility with other protective equipment. 3M™ Peltor™ Optime™ I Protective Headset is the ideal choice for both intermittent work and long-term wear. Wide and comfortable sealing rings filled with a unique blend of liquid and foam that simultaneously provides an optimum fit, minimal contact pressure and more room for the ears. Moderate noise attenuation despite the lightweight and narrow profile. Unique headband design: the stainless steel headband ensures even pressure, even when worn for long periods of time. These safety headphones are suitable for use in moderate industrial noise environments.
Specification
Recommended to use
esant 87 dB – 98 dB aplinkos triukšmo lygiui
Quantity in the box
20 pcs.
Unfortunately, there are no reviews. Be the first to share your impressions!
Write a review
Leave the item Headphones 3M OPTIME I with headband review.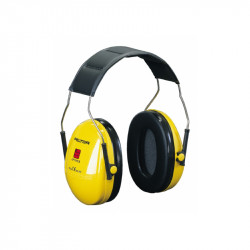 Headphones 3M OPTIME I with headband