Item description
Low-cut safety shoe in fine Nubuck or suede. Particularly comfortable and durable, suitable for all uses, excellent for outdoor use. Removable insole, antistatic PU with ergonomic thermoforming. Lining: breathable mesh. Upper: Fine suede or Nubuck with anti-scratch microfibre heel reinforcement. Metal-free. Heel with anti-slip reinforcement a lightweight dual density PU sole created for racing, ergonomically designed to ensure a high supporting surface at real points of contact with the ground while maintaining a slim and streamlined shape. Outsole: "Herringbone" design ensures good grip and rapid outflow of any liquids. Easy drive heel the rounded design of the heel makes the shoe particularly suitable for all professional drivers. Antishock: energy absorption in the heel area. Antistatic protection as required by regulations. Resistance to oils and hydrocarbons as specified by the reference standards.
Specification
Protection class
S3 SRC ESD
Upper
kokybiškos verstos odos, nelaidžios vandeniui
Sole
lengvas, lankstus, dvieju poliuretano sluoksniu (PU/PU), atsprus slydimui ir dilimui (SRC), atsprus aliejams ir angliavandeniliams, sugeriantis energiją kulno srityje
Standard
CE EN ISO 20345:2011
Unfortunately, there are no reviews. Be the first to share your impressions!
Write a review
Leave the item Low shoes SPARCO SPORT EVO S3 review.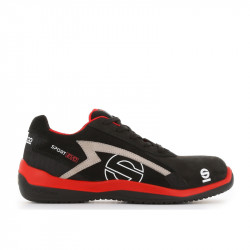 Low shoes SPARCO SPORT EVO S3