Low shoes SUPER SET BLACK S1P
Item description
TO WORK FOR manufacturer's shoes are unique, in line with fashion trends, the latest style and strong ergonomic features.
---
Low shoes SUPER SET BLACK S1P (8A21.80) new collection of sporty design WORKOUT.
The ankle support of the shoe adapts to the foot, providing better support.
The front of the shoe is additionally covered with a layer of rubber.
These are some of the lightest work shoes that are extremely stable and comfortable.
Specification
Protection class
S1P SRC ESD
Upper
extremely breathable and flexible3D Mesh, ideal for warmenvironments and long activities
Sole
EVA & RUBBER SOLE - smooth and extremely light midsole with a thin layer of ESD rubber. Oil resistancy and self-clean system. Helps to prevent muscle fatigue, while relieving heel pressure
Midsole
FLOAT - Non-metallic insole, extremely light and flexible, ideal for long activities. Excellent sweat absorptions.
Standard
CE EN ISO 20345:2011
Unfortunately, there are no reviews. Be the first to share your impressions!
Write a review
Leave the item Low shoes SUPER SET BLACK S1P review.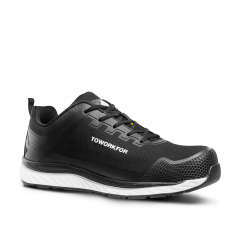 Low shoes SUPER SET BLACK S1P