Item description
Waterproof, breathable and waterproof Softshell jacket FE.ENGEL GALAXY SOFTSHELL (8810-229-7920). The special membrane does not let moisture in, but allows the body to "breathe" by evaporating water vapour to the outside, with an extended back area. The width of the bottom of the jacket is adjustable at the hips by means of an elastic band with a snap fastener. Soft and warm fleece collar. Fleece lining. Elbows reinforced with Cordura® fabric. Adjustable cuffs with stickers. Reflective elements on the front, back and shoulder strap for excellent light reflection in the dark. Two waist pockets, chest pocket, three internal pockets.
Specification
Resistance to moisture from the outside
500 mm
The moisture evaporation from the inside
1000 g/m² per 24 h
Unfortunately, there are no reviews. Be the first to share your impressions!
Write a review
Leave the item Jacket GALAXY SOFSHELL grey/black review.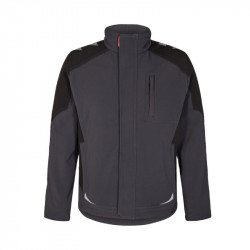 Jacket GALAXY SOFSHELL grey/black