Trousers COMBAT POCKETS black
Pants FE.ENGEL COMBAT POCKETS that do not restrict movements. The knee area, poc..
Skaityti plačiau
Konsultuokitės su profesionalu!
Prekės aprašymas
Pants FE.ENGEL COMBAT POCKETS (2761-630-20) that do not restrict movement. Belt loops in the waist area. The knee area, pockets and the bottom of the cleats are reinforced with Cordura® fabric, pockets for inserted knee pads. There are two open additional pockets on the front of the trousers that can be hidden in the trouser pockets. Two side pockets, two on the back, one pocket on the left leg claw, one pocket on the right leg claw. Reflective elements on the back perfectly reflect light in the dark. The pleats are specially left, allowing the pants to be extended up to 4 cm.
Specifikacija
Material
35% medvilnė / 65% poliesteris, audinio pynimas Twill (tvilas – ruoželinis pynimas), padengtas PU
Deja, atsiliepimų nėra. Būk pirmas (-a) ir pasidalink savo įspūdžiais!
Rašyti atsiliepimą
Palikite prekės Trousers COMBAT POCKETS black atsiliepimą.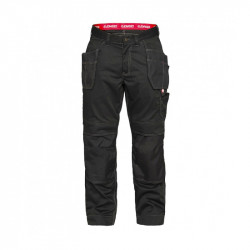 Trousers COMBAT POCKETS black