Waterproof suit 1101/1011 yellow
The material of the 1101/1011 waterproof suit is resistant to breakage down to -50 °..
Skaityti plačiau
Konsultuokitės su profesionalu!
Prekės aprašymas
The waterproof suit 1101/1011 consists of a jacket and a half coverall. With double horizontal reflective stripes on the front and back. The seams of the suit are double fused. The material is resistant to breaking down to -50 °C. The jacket fastens with press studs and the hood is adjustable with drawstrings. With elastic inner cuffs that protect against the wind. The straps of the half jumpsuit are elastic, the length is adjustable, adapting the clothes for more comfortable wear.
Specifikacija
Material
PLAVITEX FLUO ( PVC / poliesteris )
Material thickness
0,48 mm
Available sizes
48-62 (ir kiti dydžiai pagal spec. užsakymą)
Standard
CE EN ISO 13688, EN 343, EN ISO 20471
Deja, atsiliepimų nėra. Būk pirmas (-a) ir pasidalink savo įspūdžiais!
Rašyti atsiliepimą
Palikite prekės Waterproof suit 1101/1011 yellow atsiliepimą.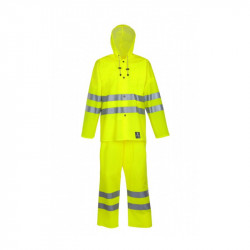 Waterproof suit 1101/1011 yellow