Item description
Waterproof suit 101/001 consists of a jacket and half overalls. The material is resistant to water, grease, enzymes and disinfectants, resistant to breakage up to -50 °C. The seams of the suit are double fused. The jacket fastens with press studs and the hood is adjustable with drawstrings. With elastic inner cuffs that protect against the wind. The straps of the half jumpsuit are elastic, the length is adjustable, adapting the clothes for more comfortable wear.
Specification
Material
PLAVITEX ( PVC / poliesteris )
Material thickness
0,48 mm
Available sizes
48-62 (and other sizes on special order)
Standard
CE EN ISO 13688, EN343
Unfortunately, there are no reviews. Be the first to share your impressions!
Write a review
Leave the item Waterproof suit 101/001 green review.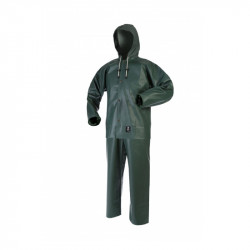 Waterproof suit 101/001 green