Item description
3M™ FAHRENHEIT™ (71360-00015M) has a soft and transparent PVC frame with a wide support around the entire lens for increased comfort. Aerodynamic shape with cylindrical lenses for a 180º field of vision and distortion-free image. Special grooves on the side of the spectacle-mask rim to accommodate the feet of the vision correcting spectacles. This model is specially designed to be worn with corrective eyewear, a respirator and a half mask. The non-vented system protects against moderate falling particles, liquid droplets, dust, gases and fumes. The lenses of the goggles are made of acetate (for chemical work). The wide elastic neoprene strap (25 mm) is easy to adjust thanks to a buckle and a mechanism for attaching the strap to the frame. The goggles are enclosed in a microfibre bag which protects the goggles and can be used to wipe the lenses when necessary.
Specification
Legs
adjustable length nylon elasticated rubber
Quantity in the package
1 pcs.
Quantity in the box
20 pcs.
Unfortunately, there are no reviews. Be the first to share your impressions!
Write a review
Leave the item Glasses 3M FAHRENHEIT acetate review.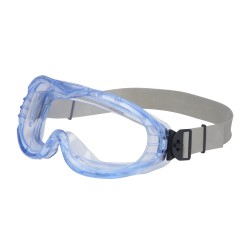 Glasses 3M FAHRENHEIT acetate