Item description
Modern and sporty design trousers REWELLY STRETCH dark blue, made of 260g/m² 4-sided Stretch fabric, water repellent, breathable and quick drying. Fastens with press through eyelet and YKK zipper. The composition of the product (90% nylon, 10% elastane) from the latest generation 4-way Stretch fabric guarantees freedom of movement, allows for maximum comfort and does not inhibit the body's breathing. Special processing of the fabric prevents it from shrinking and fading during washing. Elastic waist, raised in the back area with an innovative pull-out width adjustment system. Those areas of the product that require maximum resistance are made of Cordura® fabric, and the areas where the fabrics are joined are sewn with tri-thread. The ergonomic design of the pants is designed to mimic natural human movements. At the waist, in the front on both sides, there are zippers, for fastening additional REWELLY STRETCH pockets. There are two large open pockets on the front of the pants, and the right one has an additional pocket with a zipper. On the lower left side there is a tool loop and a closed volume pocket in Cordura® fabric, with an additional open pocket inside and a zipped inner pocket on the right side. Also in this pocket is a hidden ID card holder that can be pulled out. On the right side at the thigh - a double voluminous tool pocket made of Cordura® fabric. Two spacious pockets on the back. The left is open and the right closes with Velcro fasteners. Horizontal reflective elements on the front and back of the trousers.
Specification
Material
90% nailonas / 10% elastanas
Standard
EN ISO 13688:2013
Unfortunately, there are no reviews. Be the first to share your impressions!
Write a review
Leave the item Trousers REWELLY STRETCH blue review.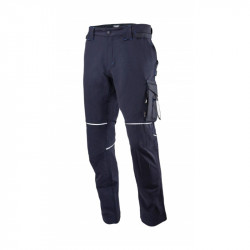 Trousers REWELLY STRETCH blue