Trousers SOFTGO SOFTSHELL black
Pants SOFTGO with suspenders made of Softshell fabric, which is moisture-resistant, ..
Skaityti plačiau
Konsultuokitės su profesionalu!
Prekės aprašymas
Pants SOFTGO with suspenders made of Softshell fabric, which is moisture-resistant, breathable and allows the body to breathe. Softshell fabric allows for free movement and provides complete comfort for work, active leisure, and everyday use. Unisex style pants are suitable for both men and women. With a comfortable, movement-restricting construction, it closes with a covered YKK zipper. The seat of the trousers, the legs and the inner part of the bottom of the legs are reinforced with a special Oxford 300D fabric. There are waterproof zippers on the sides of the pants, which are used to increase air permeability from the inside. The inside of the trousers is made of soft fleece fabric. The cleats have a water-resistant zip-adjustable flare for a comfortable trouser fit. There are reflective details below the kneecaps and on the sides of the cleats. Pants with a raised back, have 4 large water-resistant pockets with zippers, two front and two back pockets. There is a reflective strip around the front and partially back pockets. The straps together with the back part can be removed. There are loops for a belt. On the right side, two open pockets are closed with Velcro fasteners, and the left pocket is covered with a flap fastening Velcro tape. The lower left pocket has an ID card holder.
Specifikacija
Material
softshell (96% polyester / 4% spandex)
Resistance to moisture from the outside
8000 mm
The moisture evaporation from the inside
5000 g/m² per 24 val.
Deja, atsiliepimų nėra. Būk pirmas (-a) ir pasidalink savo įspūdžiais!
Rašyti atsiliepimą
Palikite prekės Trousers SOFTGO SOFTSHELL black atsiliepimą.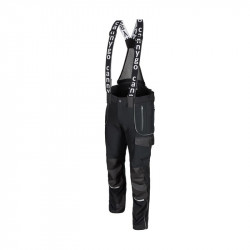 Trousers SOFTGO SOFTSHELL black