Item description
Heated bib overall STRONGO is resistant to moisture, friction, does not change its properties at sub-zero temperatures. Combined from dark and bright colored fabrics. Fastens with a double-sided covered zip from chest to crotch. On the back side of the semi-overall, there is a reinforced textile elastic, which allows the user to always feel comfortable when wearing the garment. The bottoms of the claws are adjustable on the outside with a zipper and a Velcro fastener. Two parallel high-quality 50mm reflective strips run horizontally through the claws of the half-overall. There are additional reflective elements on the pocket flaps. Lining made of 100% polyester, marked with branded "Cannygo" logos, warming polyester (sintepon). All product seams are glued. In the chest area, there are two large volume outer pockets with flaps closed with Velcro closure, in the hip area, there are two open capacity pockets on both sides, on the left side, there is a pocket below, which consists of three compartments, two compartments are closed with Velcro fasteners, and one compartment is closed with a zipper, the right side is open. pocket for tools, one open pocket on the right side of the back.
Specification
Standard
CE EN ISO 13688, EN 343, EN 342
Unfortunately, there are no reviews. Be the first to share your impressions!
Write a review
Leave the item Bib overall STRONGO blue/yellow review.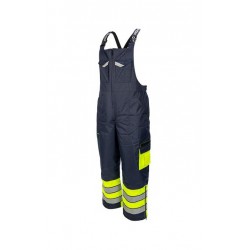 Bib overall STRONGO blue/yellow