Item description
Insulated, moisture-proof STRONGO jacket with a high collar and a warming hood with a concealed zipper. The hood is adjustable in width with elastic cords and in height with Velcro fastening. The back of the jacket is extended for extra comfort and protection against the cold. The width of the bottom of the jacket is adjustable by means of an elastic cord. Lining: 100% polyester, branded with Cannygo logos, insulation: 200 g/m2 polyester (sintepon). High-quality two-way zip, 'hidden' under the flap, which is secured in 5 places with metal stamps, with additional zip protection at the chin. Additional knitted cuffs on the inside of the sleeve ends to retain heat. Cuff width adjustable with Velcro strap. Reflective strips 50 mm wide across the sleeves, shoulders and hood of the jacket. Reflective cantels and additional reflective details to increase visibility. The seams are glued. There are two pockets on each side of the chest area, two with a flap with Velcro fastening and two with a zipper 'hidden' under the flap. There are two roomy pockets underneath with Velcro flaps, an open Velcro pocket on the left side and a phone pocket on the right side with a Velcro flap.
Specification
Standard
EN 343:3/2, EN 342:3
Unfortunately, there are no reviews. Be the first to share your impressions!
Write a review
Leave the item Jacket STRONGO blue/yellow review.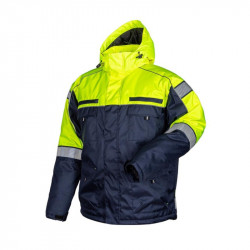 Jacket STRONGO blue/yellow