Jacket BRIGHTGO yellow / dark blue
BRIGHTGO jacket with high adjustable collar and detachable heated hood. The back..
Skaityti plačiau
Konsultuokitės su profesionalu!
Prekės aprašymas
The BRIGHTGO jacket has a high adjustable collar and a detachable hood with a removable hood that is adjustable in width by elastic cords and in height by stickers. The hood with a dark spout is detachable by a 'hidden' zip. The sleeves have additional knitted cuffs on the inside of the sleeve ends to retain heat. The cuff width is adjustable with stickers. The back of the jacket is extended for extra comfort and protection against the cold. The width of the bottom of the jacket is adjustable by means of an elastic cord. Polyester lining, polyester insulation (sintepon 200 g/m²). High-quality two-way zipper, 'hidden' under a double fabric flap, with stickers to reinforce its hold. Additional zip protection at the chin. On the outer chest area, on the right side, a roomy mobile phone pocket with a flap with sticker fastening, on the left side a side zipped pocket, on the bottom two roomy double pockets, inside on the left side a roomy zipped pocket. The jacket has 50 mm wide reflective strips across the waist, bottom and sleeves and a double reflective hood.
Specifikacija
Color
fluorescent yellow / dark blue
Material
100% polyester OXFORD 600D coated with PU coating
Resistance to moisture from the outside
5000 mm
The moisture evaporation from the inside
5000 g/m² per 24 val.
Standard
EN ISO 20471 I, EN 343 3 2, EN 342 3
Deja, atsiliepimų nėra. Būk pirmas (-a) ir pasidalink savo įspūdžiais!
Rašyti atsiliepimą
Palikite prekės Jacket BRIGHTGO yellow / dark blue atsiliepimą.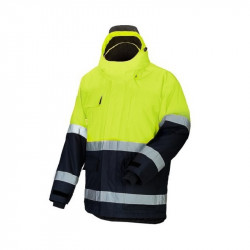 Jacket BRIGHTGO yellow / dark blue