Item description
The SMARTGO jacket in Oxford 600D fabric is moisture- and abrasion-resistant and does not change its properties in sub-zero temperatures. The special fabric membrane does not allow moisture to escape, without reducing the air permeability from the inside. The composition of the fabric prevents shrinkage and fading, and the UV resistance is increased, thus extending the life of the product. The back of the jacket is extended, which provides additional comfort and protection against the cold. The width of the bottom of the jacket is adjustable with an elastic cord. High visibility insulated jacket with high adjustable collar and detachable insulated hood. The width of the hood is adjustable with elastic cords and the height is adjustable with a sticker fastening, which allows the hood to be used when wearing a helmet. The padded and raised back collar provides extra comfort. Fastened with a high quality two-way zipper "hidden" under the flap, which is secured with sticker fasteners in 3 places, and an additional metal clip on the top and bottom. The main zip flap of the jacket is equipped with a reflective cantle. Additional zip protection at the chin. Additional knitted cuffs at the ends of the cuffs on the inside to retain heat. Polyester lining, polyester (sintepon) insulation. Two roomy pockets with zip fastenings on the outside of the chest area on both sides and additional flaps. There are D-ring plastic loops on both sides under the flap for an ID card. There are two roomy side zipped pockets at the waist of the jacket. Fleece fabric is used in all pockets of the jacket. There is a large zipped pocket on the inside left side of the jacket. A high-quality 60 mm reflective tape runs across the shoulders, waist and hem of the jacket. Two parallel 60 mm reflective strips run across the bottom of the sleeve. Inside the jacket, on the back, there is a zipped area for the logo to be conveniently attached. All seams of the product are glued.
Specification
Color
fluorescent yellow / black
Material
100% polyester OXFORD 600D coated with PU coating, breathable, waterproof
Resistance to moisture from the outside
5000 mm
The moisture evaporation from the inside
5000 g/m² per 24 val.
Standard
EN ISO 20471 III, EN 343 3 2. EN 342 3
Unfortunately, there are no reviews. Be the first to share your impressions!
Write a review
Leave the item Jacket SMARTGO yellow/black review.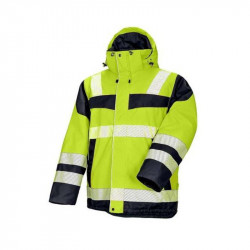 Jacket SMARTGO yellow/black