Jacket GALAXY WINTER dark blue
The FE.ENGEL GALAXY WINTER winter jacket is waterproof, wind-resistant, "breathable"..
Skaityti plačiau
Konsultuokitės su profesionalu!
Prekės aprašymas
The FE.ENGEL GALAXY WINTER winter jacket (1410-354-16577) is a waterproof, windproof, breathable jacket made from a robust polyamide material with a PU coating. The special membrane does not let moisture inside the garment, but allows the body to "breathe" by evaporating water vapour to the outside. Extended back area. Polyester lining, polyester (sintepon) insulation. Soft and warm fleece collar, additional inner knitted collar. Knitted inner cuffs. Spacious, adjustable hood with adjustable size, detachable by stickers. Two waist pockets, two chest pockets, four internal pockets, loop for ID card. Reflective elements on the front, back and shoulder strap for excellent light reflection in the dark.
Specifikacija
Material
100% polyamide with PU coating
Resistance to moisture from the outside
13000 mm
The moisture evaporation from the inside
4000 g/m² per 24 h
Deja, atsiliepimų nėra. Būk pirmas (-a) ir pasidalink savo įspūdžiais!
Rašyti atsiliepimą
Palikite prekės Jacket GALAXY WINTER dark blue atsiliepimą.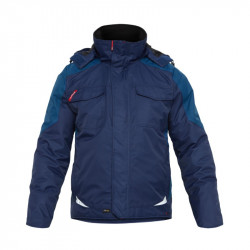 Jacket GALAXY WINTER dark blue