Item description
Pants FE.ENGEL X-TREME (0362-740-2079) narrow cut, ergonomic construction, therefore does not restrict movements. The crotch and knee area at the back are shaped with an additional elastic and breathable fabric detail to mimic the natural human movement. The knee area is reinforced with Cordura® fabric, pockets for inserted knee pads. The bottom of the claws is reinforced with a practical and wear-resistant Cordura® fabric, so it will not fray or get upset. Reflective elements on the back - perfectly reflect light in the dark. The pleats are specially left, allowing the trousers to be extended up to 6 cm. Two side pockets, one pocket on the left leg claw, tool pocket on the right leg claw, a loop for attaching an ID card. Tool pockets attached to trousers 9360-307 can be additionally adjusted.
Specification
Material
35% cotton / 65% polyester, fabric weave Twill (twill - textile weave with a pattern of diagonal parallel ribs)
Available sizes
42-74, 22-36 (short)
Unfortunately, there are no reviews. Be the first to share your impressions!
Write a review
Leave the item Trousers X-TREME black/grey review.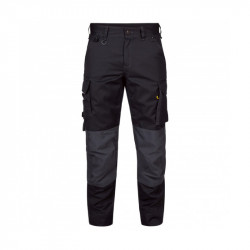 Trousers X-TREME black/grey