Jacket REWELLY STRETCH PLUS
The REWELLY STRETCH PLUS jacket has a stand-up collar, a quality moisture-repellent ..
Skaityti plačiau
Konsultuokitės su profesionalu!
Prekės aprašymas
The REWELLY STRETCH PLUS jacket is made of two fabrics: a highly stretchable nylon/spandex 4-sided Stretch fabric combined with a high mechanical resistance polyester/cotton fabric used in areas where maximum mechanical resistance is required: shoulders, elbows, pockets, etc. The jacket has a stand-up collar, a high quality moisture repellent fluorescent yellow zip with chin guard. Outer zipped pocket on the right side of the chest. On the sides of the waist with two internal and two roomy external zipped pockets. The width of the bottom of the jacket is adjustable, and the back area is extended. Cuffs with an additional inner cuff in a soft, stretchy fabric for wind protection. A reflective piping runs through the shoulders and sleeves of the jacket. Reflective details, contrast stitching and Rewelly's bright accents give the jacket an innovative touch.
Deja, atsiliepimų nėra. Būk pirmas (-a) ir pasidalink savo įspūdžiais!
Rašyti atsiliepimą
Palikite prekės Jacket REWELLY STRETCH PLUS atsiliepimą.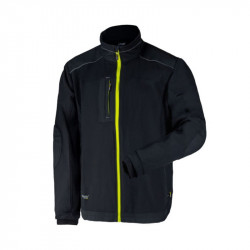 Jacket REWELLY STRETCH PLUS