Item description
The 3M™ SecureFit™ Safety Helmet (X5014V) provides safety and comfort when working both at height and on the ground. The helmet was developed in close collaboration with forestry and industry. It is designed for use by climbers working in challenging and dangerous conditions that require effective protection, excellent ventilation and maximum visibility. The helmet has six different adjustment settings and a four-point chinstrap selection system to switch between the EN397 standard and the EN12492 standard for work at height. The safety helmet features a patented 3M Uvicator™ sensor, a technology that tells you when to replace your helmet due to UV exposure. The head strap system with a smooth and easy-to-operate locking mechanism in the lower part ensures greater comfort and safety. The patented technology reduces pressure in the forehead area by an average of 20% compared to other 3M helmets. The sweat-absorbing bands can be removed and washed, or replaced with new ones. 3M™ Scotchlite™ reflective material increases visibility in low light. The helmet is designed to be used in conjunction with other personal protective equipment.
Specification
Sweat absorbing tape
nailoninė
Insert
textile straps with 4 attachment points
Electrical isolation
nėra
Operating temperature
-30 °C
Quantity in the box
4 pcs.
Unfortunately, there are no reviews. Be the first to share your impressions!
Write a review
Leave the item Helmet for high climbers 3M X5014V yellow review.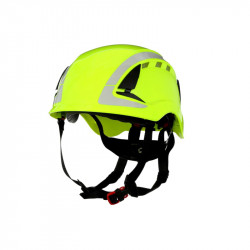 Helmet for high climbers 3M X5014V yellow