Trousers REWELLY STRETCH PLUS
Pants REWELLY STRETCH PLUS are made of two fabrics. Bending places and crotch ar..
Skaityti plačiau
Konsultuokitės su profesionalu!
Prekės aprašymas
Pants REWELLY STRETCH PLUS are made of two fabrics. Bending places and crotch area - made of elastic 4-way Stretch fabric, which is ergonomic and does not restrict movement while working. The fabric is also breathable and moisture resistant. A durable 88% polyester and 12% cotton fabric is used for the waist and pockets, and the bottom of the claws is made from a Hi-Vis analogue fabric. Such a combination of fabrics is more visible, more elastic, prevents it from shrinking when washing. Contrasting reinforcements and fluorescent yellow details - provide innovation. The product is sewn with a triple thread, which extends its wearing time. Dark elements of the material are used in the most lubricated areas. The pants fasten with a YKK zipper and molded button. The product has many functional recessed, "hidden" pockets - on the front, sides and back. In addition, there are two pockets for tools in the front, which can be removed with the help of a zipper. Also, on the left side - a pocket for a mobile phone. At the top of the right lower side pocket there is a special button for attaching a knife. The kneepad pockets are made of 100% Cordura fabric, which ensures maximum abrasion resistance. The mats are placed from above - this ensures protection against dirt getting inside. The pavement area has reflective edging and Hi-Vis detailing with reflective tape. In the lower part of the claws there are two high-quality reflective strips of 50mm and 70mm width. The trousers can be lengthened by 5 cm - by pulling out only one thread at the bottom of the legs.
Specifikacija
Color
dark grey / fluorescent yellow
Material
88% poliesteris / 12% medvilnė
Standard
EN ISO 13688:2013
Deja, atsiliepimų nėra. Būk pirmas (-a) ir pasidalink savo įspūdžiais!
Rašyti atsiliepimą
Palikite prekės Trousers REWELLY STRETCH PLUS atsiliepimą.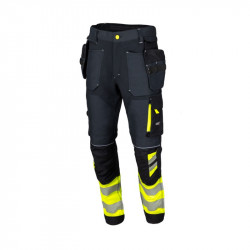 Trousers REWELLY STRETCH PLUS