Trousers GALAXY POCKETS grey
FE.ENGEL GALAXY POCKETS functional work trousers with many details, an optimum fit with..
Skaityti plačiau
Konsultuokitės su profesionalu!
Prekės aprašymas
FE.ENGEL GALAXY POCKETS (2811-254-7920) functional work trousers with many details. Optimal fit with ergonomic knees and inner seam panel, providing a comfortable crotch seam. Two spacious slanted pockets and two front hanging tool pockets. Strap with D-ring for attaching e.g. an ID-card at the front. Two spacious back pockets with flap and Velcro closure. Thigh pocket with zipper pocket for e.g. mobile phone as well as extra smaller pocket. The thigh pocket has a box effect for extra spaciousness, and a loose bottom for greater freedom of movement. Ruler pocket with extra sections and reinforced bottom. The ruler pocket also has a loose bottom for increased freedom of movement. Knee reinforcement/knee pocket with bottom Velcro closure and two adjustment options for knee pad. Extra hard-wearing reinforcement at trouser leg ends both front and back. Reflectors at the knee and trouser leg ends for increased visibility. Suitable for industrial laundering.
Specifikacija
Material
65% poliesteris / 35% medvilnė
Available sizes
42-70, 22-28 (patrumpintos), 90-114 (pailgintos)
Deja, atsiliepimų nėra. Būk pirmas (-a) ir pasidalink savo įspūdžiais!
Rašyti atsiliepimą
Palikite prekės Trousers GALAXY POCKETS grey atsiliepimą.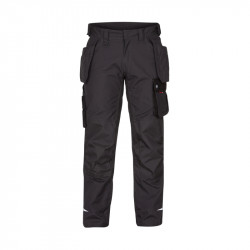 Trousers GALAXY POCKETS grey