Jacket KINGSTON black/yellow
KINGSTON winter work and leisure jacket, waterproof, breathable Softshell material. A s..
Skaityti plačiau
Konsultuokitės su profesionalu!
Prekės aprašymas
KINGSTON winter work and leisure jacket in breathable, waterproof Softshell material. The special TPU membrane does not let moisture in, but allows the body to breathe by evaporating water vapour to the outside. Inside there is a pleasant fleece lining. Reflective details, internal cuffs, adjustable size, zipped hood. Soft and warm fleece collar. Adjustable drawstring hem on the inside of the jacket. Zipped pockets. Two waist pockets, one chest pocket and one inside pocket. Special ventilation holes in the armpits.
Specifikacija
Color
black / fluorescent yellow
Material
softshell (96% polyester / 4% spandex)
Resistance to moisture from the outside
10000 mm
The moisture evaporation from the inside
3000 g/m² per 24 h
Deja, atsiliepimų nėra. Būk pirmas (-a) ir pasidalink savo įspūdžiais!
Rašyti atsiliepimą
Palikite prekės Jacket KINGSTON black/yellow atsiliepimą.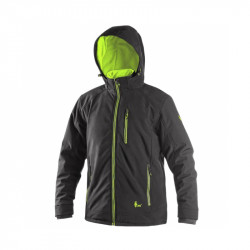 Jacket KINGSTON black/yellow