Item description
Bib overall and other REWELLY COPPER products are treated with the "Stone-Wash" technology, so they will fade and shrink minimally during washing. In the knee area, there are pockets for inserted knee pads, made of extremely strong and abrasion-resistant Canvas fabric. This fabric also reinforces the bottom of the back side of the semi-overall. In the chest area of the semi-overalls, there is a large pocket, closed with a high-quality and long-lasting zipper. On it, two additional pockets for small items and a mobile phone. There are belt loops in the waist area of the jumpsuit. On the back side, there is a hidden textile elastic, which will allow the user to always feel comfortable while wearing the garment. In the front of the trousers there are two deep pockets reinforced with double fabric. Additional "hanging" pockets are sewn above them, which are also reinforced with double fabric. The inner right pocket has a hidden hidden ID card pocket (wash resistant) that can be easily marked with a marker for the company name, username and surname. There is an extended pocket on the left side of the pants for storing longer non-sharp items. On the right side, there is a double voluminous pocket with stitching and loops - for storing small or larger tools. On the back side of the semi-overalls there are two pockets closed with Velcro fasteners.
Specification
Material
60% cotton / 40% polyester, fabric weave Twill (twill - textile weave with a pattern of diagonal parallel ribs)
Material thickness
320 g/m²
Available sizes
44-46 | 48-50 | 52-54 | 56-58 | 60-62 | 64-66
Available heights
158-164 | 170-176 | 182-188 | 194-200
Unfortunately, there are no reviews. Be the first to share your impressions!
Write a review
Leave the item Bib overall REWELLY COPPER review.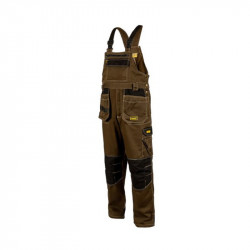 Bib overall REWELLY COPPER